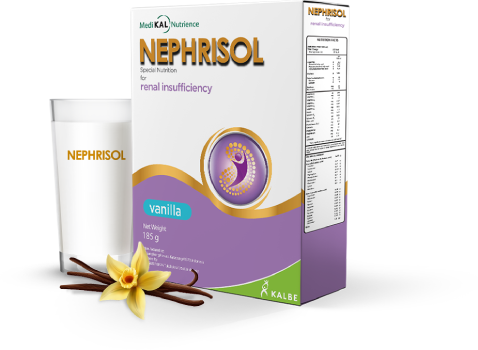 Ang Nephrisol ay isang dalubhasang nutrisyon (oral nutritional supplement at tube feed) na pormula upang matugunan ang mga kinakailangan para sa mga may kakulangan sa bato, tulungan maantala ang pag-unlad ng CKD para sa mga pasyente sa yugto ng pre dialysis.
Naglalaman ang Nephrisol ng:
Mababang halaga ng protina

Nakumpleto ng 9 mahahalagang amino acid (Mataas na Biological Value Protein)

Nakumpleto ng 12 bitamina at 7 mineral

Walang lactose
Feature Benefit
| | |
| --- | --- |
| NILALAMAN | BENEPISYO |
| Ang pormula ay idinisenyo para sa CKD | Hindi lamang natutupad ang pang-araw-araw na pangangailangan sa nutrisyon, ngunit angkop din para sa kondisyong medikal ng pasyente. |
| Mababang protina | Napanatili ang pagpapaandar ng bato sa kondisyon ng predialysis. |
| Mataas na biological na halaga ng protina na may 9 mahahalagang mga amino acid | Upang mapabuti ang antas ng albumin |
| Inayos ang mineral para sa kundisyon ng CKD | Pigilan ang masamang pangyayari dahil sa hindi wastong pagkonsumo ng micronutrient. |
| Maltodextrin bilang mapagkukunan ng karbohidrat | Madaling natunaw at sinipsip (walang mainit na tubig), takpan ang malansa na lasa ng taba at ang mapait na lasa ng protina |
| Pagsamahin ang whey at kasein | Lumilikha ng mas mabilis at mas matagal na synthesis ng protina. |
| Hindi taba ng hayop | Mayaman sa MUFA at PUFA, MCT, at pati na rin ang nilalaman ng USFA (dalawang beses na mas mataas) kaysa sa SFA. |
| Sucralose bilang pangpatamis | Hindi nakakaapekto sa antas ng asukal sa dugo, metabolismo ng karbohidrat o paggawa ng insulin. |
| Densidad 1.04 kCal / mL | Maaaring ibigay sa pamamagitan ng pagpapakain ng NGT |
| Mababang Osmolality | upang maiwasan ang hindi kanais-nais na kaganapan (pagtatae) |
Preparation
Ang Nephrisol ay maaaring makuha nang pasalita o ibibigay sa pamamagitan ng isang nasogastric tube.
Pangangalaga sa bibig: Upang maghanda ng isang 250 mL na pagpapakain, Unti-unting maglagay ng 4 takal (scoop) ng Nephrisol (+ 61 gramo) sa isang 200 ML na maligamgam na tubig at ihalo hanggang matunaw. Ang Nephrisol ay maaaring ihanda bilang meryenda tulad ng smoothie, puding, atbp. Huwag pakuluan sa mataas na temperatura (higit sa 600 Celsius) dahil maaaring magbago ang nilalamang protina ng Nephrisol.

Tube feeding

:Sundin ang payo ng doktor.

Hindi ito maaaring gamitin sa parenteral administration
Nutrition Fact
1.04 kcal / mL inuming may kumpletong nutrisyon, na may 9 mahahalagang amino acid, 11 di-mahahalagang amino acid, 12 bitamina, at 8 mineral
NUTRITION
UNIT
PER SERVING
% DV
Calories
kCal
260

          Calories from fat

kCal

50

Total Fat
g
6
9%

          Saturated fatty acid

g

2

8%

          Monounsaturated fatty acid

g

2.5

          Polyunsaturated fatty acid

g

1.5

Protein
g
5
8%
Total Carbohydrates
g
48
16%

          Sucrose

g

3

          Lactose

g

0

Vitamins 

Vitamin A

IU

250

15%

Vitamin C

mg

11

10%

Vitamin D

3

IU

33

8%

Vitamin E

mg

1.7

10%

Vitamin B

1

mg

0.23

25%

Vitamin B

2

mg

0.28

25%

Niacin

mg

3.20

20%

Vitamin B

6

mg

0.37

30%

Vitamin B

12

μg

0.33

15%

Folic acid

μg

67

15%

Pantothenic acid

mg

1

15%

Biotin 

μg

12

Minerals

Sodium

mg

87

4%

Potassium

mg

46

2%

Calcium

mg

120

15%

Phosphorus

mg

79

10%

Magnesium

mg

20

8%

Zinc

mg

1.53

15%

Selenium

μg

4.9

15%

Total N (protein & amino acids)
g
0.73
Essential Amino Acids

          Leucine

g

0.6

          Isoleucine

g

0.4

          Valine

g

0.5

          Tryptophan

g

0.1

          Phenylalanine

g

0.4

          Methionine

g

0.4

          Threonine

g

0.3

          Lysine

g

0.4

          Histidine

g

0.2

Non Essential Amino Acids

          Aspartate

g

0.2

          Glutamate

g

0.3

          Serine

g

0.1

          Glycine

g

0.04

          Arginine

g

0.17

          Alanine

g

0.1

          Tyrosine

g

0.1

          Proline

g

0.18

          Cystine

g

0.04

          Taurine

g

0.2

          Glutamine

g

0.2
Ingredients
Maltodextrin, Vegetable Oil (Canola, Sunflower, Palm Kernel at Coconut Oil), Sucrose, Amino Acids, Whey Protein, Minerals (Calcium Carbonate, Monosodium Phosphate, Potassium Chloride, Sodium Chloride, Magnesium Okside, Zinc Oxide, Sodium Selenite), Calcium Caseinate , Artipisyal na Vanilla Flavor, Natural Identical Milk Flavor, Vitamins (L Sodium Ascorbate, Vitamin E, Calcium Pantothenate, Vitamin A, Pyridoxine HCl, Vitamin D3, Cyanocobalamin, Thiamine HCl, Riboflavin, Folic Acid, Biotin), Sweetener Sucralose 22 mg/serving
Storage
Ang nakabukas na pakete ay dapat ilagay sa katamtamang lamig at tuyong lugar. Ubusin and nabuksang pakete sa loob ng 1 buwan
Packaging & Flavor
1 kahon 185 gram nutrition powder, Vanilla flavor
1 kahon for 3 servings
FAQ
What is the content of NEPHRISOL?
NEPHRISOL is a special enteral nutrient for kidney dysfunction, has a composition of 63% carbohydrates, 7% protein and 30% fat and with mineral and vitamin contents that have been adjusted for pre-dialysis chronic kidney disease conditions. NEPHRISOL also has a low protein content, so it is in accordance with the recommended protein requirements for pre-dialysis kidney patients.
How many calories are produced from NEPHRISOL per serving?
NEPHRISOL contains calories of 260 Kcal / serving.
How many servings of NEPHRISOL can be consumed per day ?
If as a substitute food, NEPHRISOL can be given up to 6 times / day or adjusted to the needs and patient's conditions. If as a complementary food can be given 2-3 times / day.
What is the calorie density of NEPHRISOL?
The calorie density of NEPHRISOL is 1.04 so that it can be given orally or tube feeding (the density does not exceed than 1.5).
What is the osmolality of NEPHRISOL?
NEPHRISOL osmolality is 354 mOsm / kg for vanilla variants
When can NEPHRISOL be used?
NEPHRISOL can be given to chronic kidney disease (pre-dialysis stage)
How is the presentation of NEPHRISOL?
Prepare 200 mL of warm boiled water with a temperature of <70 degrees Celsius then mix and stir until it is mixed homogeneously. Do not use hot water because it can damage the protein content.
How many times can NEPHRISOL be consumed a day?
NEPHRISOL if as a substitute food can be given up to 6 times / day or adjusted to the needs and conditions of the patient. If as a complementary meal can be given as much as 1-3 times / day.
Is it allowed if we put more than 4 spoons per serving to increase calorie?
Yes it's allowed. Our product as complementary nutrition, that's why the calorie is not high. It will be easier to adjust and patient can still eat their daily meals. Moreover we have amino acids premix which's complying to the EAA: NEAA ratio following the guideline and is needed by patient, it is high biological value protein, an essential for every metabolic process, as main component to rebuild and maintain the balance of body functions, meanwhile other products don't describe it.
If we put more than 4 spoons per serving, we need to add the water volume so we can maintain the density does not exceed than 1.5 kcal/mL
Can NEPHRISOL be combined with other enteral nutrients?
NEPHRISOL can be combined with other enteral nutrients if needed, but the dissolution process should be done separately.
What is the preparation for NGT patients?
The same with oral preparations depends on how many calorie patient needs. It can be accepted for the tube feeding size: 16 – 18 gauge and put each scoops gradually (while stirring and mix until dissolve to avoid the granules) and make sure that the density does not exceed than 1.5 kcal/mL
Can NEPHRISOL be given to patients with diabetes mellitus (DM)?
DM patients who are given NEPHRISOL to always monitor their blood sugar levels in order to stay controlled. Sometimes it is necessary to adjust the dose or adjust the type of diabetes medication so that the fulfillment of nutrition in DM patients is met.
What is the stability / method of storing NEPHRISOL before it is dissolved?
The unlocked NEPHRISOL lasts for 1 month as long as it stays in the aluminum bag. Store in a dry place with a temperature <25 degrees Celsius. It is not recommended to move NEPHRISOL into other places because it can interfere with its stability. If it is to be stored in a jar it should be together with the aluminum bag.
What is the stability / method of storing NEPHRISOL after dissolving?
NEPHRISOL which has been dissolved in 5 hours must be taken. If you have not finished drinking NEPHRISOL can be stored in the refrigerator, only afterwards it is not recommended to be heated (Microwave).
What is the source of carbohydrates used in Nephrisol?
Maltodextrin. Maltodextrin has the advantage of being easily absorbed so that it will optimize the formation of energy. Maltodextrin also dissolves easily, so the process of dissolving Nephrisol does not need to use hot water. Maltodextrin can help give volume (solid builder) by drawing water from dried products. Maltodextrin has a sweeter taste than sugar but has less sugar content, and serves to mask the fishy taste of fat and the bitter taste of protein content.
Why in the composition it has sucrose and sucralose together, what is their function?
The combination of those two sugars are to complement each other since we can't use too much sucrose to sweet the product, so we use sucralose to give the sweeter taste. However we also can't use sucralose as a single sweetener since: 1) Too much sucralose gives unpleasant aftertaste and give bad effect risk for glycemic and insulin response. 2) Sucralose itself doesn't have calorie, since this product aimed to meet the daily calorie needs for CKD patient, so sucrose addition may give worthy contribution to the calorie. 3) Sucralose is needed to mask the bitter amino acid taste.
What type of protein is used in Nephrisol?
Nephrisol contains a combination of whey protein (concentrate and isolate) and casein. Whey protein is fast digesting protein, so it is quickly used for protein synthesis. Casein is a slow digesting protein, which has the advantage of being able to last longer so that it can take over protein synthesis in the body when whey protein levels have started to fall. The combination of these has benefit in creating faster and longer protein synthesis.
Both of whey and casein contain amino acids, why in the composition stated: whey protein, casein, and also amino acids together?
To inform that beside the whey protein and casein, amino acid essential and non-essential amino acid is also clearly described, according with the guideline. Because we use premix AA, so we can describe the ratio EAA and NEAA, while other products don't have it.
Why does Nephrisol have high biological value in protein?
Because it contains complete types of amino acids, which are needed for protein synthesis, namely essential amino acids and non-essential amino acids at the appropriate guideline ratio.
What is the source of fat used in Nephrisol?
Nephrisol is used vegetable fats: sunflower oil, canola oil and coconut oil which are rich in MUFA and PUFA, MCT, and also the content of unsaturated fatty acids higher (twice higher) than saturated fatty acids
What kind of sweetener that is used in Nephrisol?
Sucralose. Sucralose is non calorie sweetener, it is not metabolized in the body into energy and does not affect blood sugar levels, carbohydrate metabolism or insulin production
Why should Nephrisol not be dissolved in hot water?
When the protein is heated, the protein becomes clotted because the peptide bonds are destroyed by heat, because the middle group contains a positive charge and the carbonyl contains a negative charge whose kinetic increases when hot. After clotting, the peptidase enzyme can no longer work on the protein. The more peptide chains and the longer the structure, the greater the chance that the protein will be damaged by heat.
Is it possible to be given to diabetes patients?
Nephrisol can be given to diabetes patients whose glucose levels have been controlled. The calorie concentration is not categorized as high, which is 1 kcal/mL. After Nephrisol is given, as it is with nutritional therapy in general, glucose levels should be monitored accordingly.
What is the role of Nephrisol as a food supplement or substitute?
Both. As a food supplement Nephrisol can be consumed to meet the adequacy of protein and calories that are not met from the daily diet, as a substitute food Nephrisol can be consumed if the patient is completely unable to eat.